The Truckee Tahoe Airport District Welcomes You!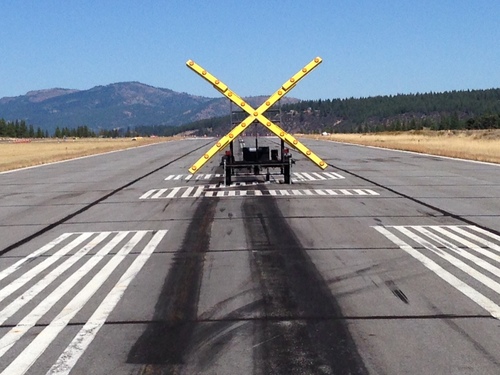 Runway 2-20 / Taxiway Golf CLOSURES
Truckee Tahoe Airport's runway 2-20 and parallel taxiway Golf will be closed Monday through Friday for up to 5 weeks, from 7:00am to 5:00pm PDLST (1400-0001 Zulu) for pavement maintenance. The work will begin on Monday, September 28, 2015 and is scheduled to go through Friday, October 30, 2015. Check for most recent NOTAM's:
➤ FAA NOTAMS
Old Hertz Office Building Demo
She served us well ! The Airport's Hertz rental car office building was demolished on 10.06.2015. The structure was originally built circa 1980. Reusable items such as windows, doors, lights and fans were donated to the Reno Chapter of "Habitat For Humanity". The building was cleared to make room for the Airport District's new 12,000 square foot commercial "WOB" (Warehouse Office Building) facility. The WOB is scheduled to open in the fall of 2016. Hertz is temporarily located in Hangar 2, just east of the Terminal Building.
KTRK Aerial Perspectives
Pic 1) Approach RWY-02, Pic 2) Approach RWY-11, Pic 3) Approach RWY-20, Pic 4) Approach RWY-29, Pic 5) KTRK Overview. Pictures taken from a Cessna 182 at 12,000' MSL, KTRK Field elevation 5,901. (Pilot: Laurel Lippert / Photographer: Tom Lippert)
Educational, Safety & Noise-Abatement Videos
KTRK CAUTIONS: Mountainous Terrain / High Density Altitude / Glider Activity / High Field Elevation / Wind Gusts / Wildlife
➤ Welcome
➤ Safety
➤ KTRK: RWY 02 - Arrival from the North (VFR)
➤ KTRK: RWY 02 - Departure "Preferred Calm Wind Departure Runway" (VFR)
➤ KTRK: RWY 1 1 - Arrival from the South Southeast (VFR) NEW!
➤ KTRK: RWY 1 1 - Departure to the Northwest (VFR)
➤ KTRK: RWY 20 - Arrival Gateway (VFR)
➤ KTRK: RWY 20 - Departure Left 270° to the West (VFR)
➤ KTRK: RWY 29 - Arrival Gateway (VFR)
➤ KTRK: RWY 29 - Departure Bypass (VFR)
---
Welcome from the General Manager
Since 1958, the Truckee Tahoe Airport District has been providing a high quality, safe facility for pilots, visitors and the community. Nestled in the Sierra Nevada mountain range at an elevation of 5,900 feet, twelve miles from Lake Tahoe, we promise one of the most scenic flight and visiting experiences in the world. We are proud of our pilot safety and community programs, state-of-art energy saving facilities and top notch staff and leadership. We are committed to offering the best small, mountain airport in the Country.
Kevin Smith, General Manager
kevin.smith@truckeetahoeairport.com
Photo by ScottShotsPhoto.com