MAJOR AIRFIELD CONSTRUCTION STARTS MAY 17, 2021
- PILOTS, CHECK TRK/KTRK NOTAMS Frequently at ➤https://pilotweb.nas.faa.gov/PilotWeb
- Taxiways A, C, D, E & T and RWY 11 Run-up will be impacted
- RWY 11-29 may experience intermittent closures
- 78' and greater WINGSPAN RESTRICTIONS will be in place
- Expect RWY 29 back-taxi instructions and potential delays
- ATC may restrict repetitive training flights during peak periods
- Estimated project completion, Friday August 13, 2021
- This is a 100% FAA $4,000,000 AIP funded project
- We thank airport users for their patience as we strive to make KTRK even better!
To See All Airport CONSTRUCTION 2021 ➤ Click Here
---
The Truckee/Tahoe region is a very NOISE SENSITIVE COMMUNITY and our airport strives to be a good neighbor.
PILOTS: Please abide by our noise abatement procedures, the voluntary curfew, and utilize aeronautical resources provided here:
➤ Arrival & Departure Noise Abatement Information
RESIDENTS: Learn more about the airport's efforts to reduce noise and annoyance, our initiatives, and ways to help us improve:
➤ Resident Noise & Annoyance Information and Options
We ask that pilots please respect KTRK's Voluntary Curfew and do not fly between 10 pm and 7 am.
---
KTRK GOING GREEN

TRUCKEE, CA / May 4, 2021/ AVIATION NEWS / SUSTAINABLE AVIATION FUEL- KTRK is the first general aviation airport in the region to make sustainable aviation fuel (SAF) available for jet, turbine and diesel powered aircraft, significantly reducing greenhouse gas emissions and aligning with the airport's sustainability goals.
In an effort to expand the reach of SAF throughout the industry and reduce greenhouse gas emissions in the region, Avfuel Corporation and Truckee Tahoe Airport District (KTRK)—an Avfuel-branded fuel provider—have partnered to provide a consistent supply of the fuel to the Truckee aviation community.
"Truckee Tahoe Airport District has long practiced good stewardship with its community, helping to protect our serene environment," said Kevin Smith, KTRK general manager. "As such, the airport has implemented a Greenhouse Gas Reduction initiative, which now includes SAF—the most effective way to directly reduce emissions. We are proud to partner with Avfuel on this initiative, doing our part to help make the world a cleaner place and our industry realize its carbon emission reduction goals." For more information visit ➤ Avfuel Press Release
---
POPULAR AIRPORT WEB PAGES
➤ ARRIVAL/DEPARTURE INFO and NAP's
➤ SNOW DAY INFO PAGE
➤ DAILY OPERATIONS INFORMATION (DOI E-BLAST) - Contact stacey.justesen@truckeetahoeairport.com to receive the airfield's DOI email.
---
KTRK VIDEO LIBRARY
KTRK CAUTIONS: Mountainous Terrain / High Density Altitude / Glider Activity / High Field Elevation / Wind Gusts / Wildlife
➤ Welcome
➤ Safety
➤ KTRK: RWY 02 - Arrival from the North (VFR)
➤ KTRK: RWY 02 - Departure "Preferred Calm Wind Departure Runway" (VFR)
➤ KTRK: RWY 11 - Arrival from the South Southeast (VFR) NEW!
➤ KTRK: RWY 11 - Departure to the Northwest (VFR)
➤ KTRK: RWY 20 - Arrival Gateway (VFR)
➤ KTRK: RWY 20 - Departure Left 270° to the West (VFR)
➤ KTRK: RWY 29 - Arrival Gateway (VFR)
➤ KTRK: RWY 29 - Departure Bypass (VFR)
---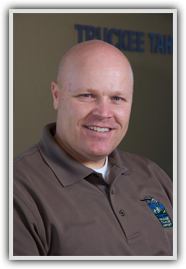 Welcome from the General Manager
Since 1958, the Truckee Tahoe Airport District has been providing a high quality, safe facility for pilots, visitors and the community. Nestled in the Sierra Nevada mountain range at an elevation of 5,900 feet, twelve miles from Lake Tahoe, we promise one of the most scenic flight and visiting experiences in the world. We are proud of our pilot safety and community programs, state-of-art energy saving facilities and top notch staff and leadership. We are committed to offering the best small, mountain airport in the Country.
Kevin Smith, General Manager
kevin.smith@truckeetahoeairport.com
Photo by ScottShotsPhoto.com