SNOW DAY Airfield/Runway Status ➤ KTRK Winter Info
---
The Truckee/Tahoe region is a very NOISE SENSITIVE COMMUNITY and our airport strives to be a good neighbor.

PILOTS: Please abide by our noise abatement procedures, the voluntary curfew, and utilize aeronautical resources provided here:
➤ Arrival & Departure Noise Abatement Information
RESIDENTS: Learn more about the airport's efforts to reduce noise and annoyance, our initiatives, and ways to help us improve:
➤ Resident Noise & Annoyance Information and Options
We ask that pilots please respect KTRK's Voluntary Curfew and do not fly between 10 pm and 7 am.
---
"ACT" Airport Community Team
For ACT Info & the Zoom link visit ➤ ACT
Next meeting: Wednesday, February 9, 2022, 6-7:30 p.m.
Topic: Aircraft Fleet that regularly use the Truckee Tahoe Airport. This was a request by a few ACT members. We will have a discussion and provide information on the type of aircraft the typically use the Truckee Tahoe Airport. We will cover noise signatures, operating performance information, type of fuel they use, climb performance during different times of the year. We will also discuss airport planning and design characteristics that influence the size, type, frequency of aircraft that use our airport.

---
Click here to see the Carbon Footprint of a flight to Truckee from various origination points and other carbon emission stats. ➤ Carbon Footprint Poster ➤ U.S. 2021 Aviation Climate Action Plan

---
NEW FLIGHT PROCEDURES DEVELOPMENT PROGRAM
➤ Info on NEW Proposed Flight Procedures at KTRK
➤ Visit Our Proposed Flightpaths Microsite
---
POPULAR AIRPORT WEB PAGES
➤ ARRIVAL/DEPARTURE INFO and NAP's
➤ AIRFIELD CONSTRUCTION 2021
➤ Live 360 Degree Webcam
➤ Snow Day Winter Ops Airfield/Runway News
➤ DAILY OPERATIONS INFO (DOI): To receive the airfield's email, contact stacey.justesen@truckeetahoeairport.com
---
KTRK VIDEO LIBRARY
KTRK CAUTIONS: Mountainous Terrain / High Density Altitude / Glider Activity / High Field Elevation / Wind Gusts / Wildlife
➤ Welcome
➤ KTRK: RWY 02 - Arrival from the North (VFR)
➤ KTRK: RWY 02 - Departure "Preferred Calm Wind Departure Runway" (VFR)
➤ KTRK: RWY 11 - Arrival from the South Southeast (VFR) NEW!
➤ KTRK: RWY 11 - Departure to the Northwest (VFR)
➤ KTRK: RWY 20 - Arrival Gateway (VFR)
➤ KTRK: RWY 20 - Departure Left 270° to the West (VFR)
➤ KTRK: RWY 29 - Arrival Gateway (VFR)
➤ KTRK: RWY 29 - Departure Bypass (VFR)
---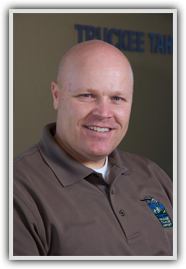 Welcome from the General Manager
Since 1958, the Truckee Tahoe Airport District has been providing a high quality, safe facility for pilots, visitors and the community. Nestled in the Sierra Nevada mountain range at an elevation of 5,900 feet, twelve miles from Lake Tahoe, we promise one of the most scenic flight and visiting experiences in the world. We are proud of our pilot safety and community programs, state-of-art energy saving facilities and top notch staff and leadership. We are committed to offering the best small, mountain airport in the Country.
Kevin Smith, General Manager
Photo by ScottShotsPhoto.com